There's just one problem with Harrison Greenbaum's magic performances: he's just so funny that you're likely to forget -- or miss -- the subtlety and sophistication of his conjuring.
But more on that in a moment - first I need to cover today's unusual offering. The item depicted here is
not
a throwing card. It is is business card-sized, but it is not a business card. As its purveyor would likely shout in a mock-enraged stage rant "It's a sticker!" And so it is. For collectors, such an item should be highly sought after, as it is so very ephemeral (fans tend to apply and discard stickers, making them rare). Showcasing a sticker is unusual without being unprecedented here: we featured a sticker on the
Bamberg
page.
A second aspect of this keepsake also renders it unusual for its inclusion here: it makes no mention of magic. Accompanying the genial portrait, the front reads "This is Harrison," followed by two notations "He does comedy" and, on the reverse "He likes you too." The reverse lists a variety of social media references which have become so very important for contemporary performers, (which we'll examine in a subsequent post about Jeff McBride) particularly one that, like Mr. Greenbaum, offers more than 600 performances per year.
And just like this collectible, Harrison Greenbaum defies easy categorization. As a visit to his site,
harrisongreenbaum.com
, confirms, Harrison defines himself primarily as a comedian, which is where, unquestionably, he developed his performing chops. According to his bio, he began performing stand-up comedy while studying psychology and English at Harvard (a fact he often cites self-deprecatingly as part of his performances). A
summa cum laude
graduate, Harrison was the co-founder of the Harvard College Stand-Up Comic Society. And he is a superlative comedian, featured on NBC's
Last Comic Standing
and
America's Got Talent
.
Make no mistake, though, his conjuring skills are equally impressive. Clues to his magic pedigree can be discerned from his bio -- he won an award at Harvard for his magic book collection. Indeed, he maintains a separate
magic website
which includes the following magic credits:
Harrison offers his vision of the Mental Epic by Hen Fetch.
As a magician, Harrison was named one of "today's best" by Newsday and tours around the world as one of the stars of

The Illusionists: Direct from Broadway,

the biggest selling magic show in history. The most requested performer at Monday Night Magic, the longest-running- Off-Broadway magic show in New York, Harrison has also performed at the Magic Castle in Hollywood, the Mystery Lounge in Boston, and was one of only 30 magicians chosen to perform at the International Festival of Magic, Illusion, and the Unusual in Louisville, Kentucky. He is also the proud winner of the Senator Crandall Award for Excellence in Comedy, given out annually at Abbott's Magic Get-Together in Colon, Michigan. Harrison is a counselor at Tannen's Magic Camp and has been an advisor to the Society of Young Magicians in Boston and New York for almost a decade.
At a recent performance at which he was the headliner, Harrison offered sophisticated, complex and beautiful magic pieces, accompanied by his frenetic comedy. His set included some classics, such as his unique twist on the Mental Epic, a flawless and funny newspaper tear, a bizarre and hilarious add-a-number routine and a celebrity prediction that still has me scratching my head. His effects were thematically linked in a nuanced way that nearly escaped my notice amid his razor-sharp wit, performing energy and gales of laughter.
At one point, Harrison unleashed a sticker upon a particularly quirky audience volunteer (a man who claimed to be from Australia, Los Angeles and New York, and who proved incapable of describing his very strange job). The spectator was clad in a tee shirt featuring a portrait of a snarling tiger. The performer produced a sticker, peeled it and pasted it over the tiger's face. "There, see, now it's not so scary! My sticker helped," he quipped, in a tone of faux-derision, but belying the performer's efforts to not break out laughing. "It's a picture of me, not of that scary tiger!"
After the show, Harrison let me in on his plan -- which he has since shared with his fans via a posting -- to have his fine portrait made into a lapel pin, and was choosing between the following designs: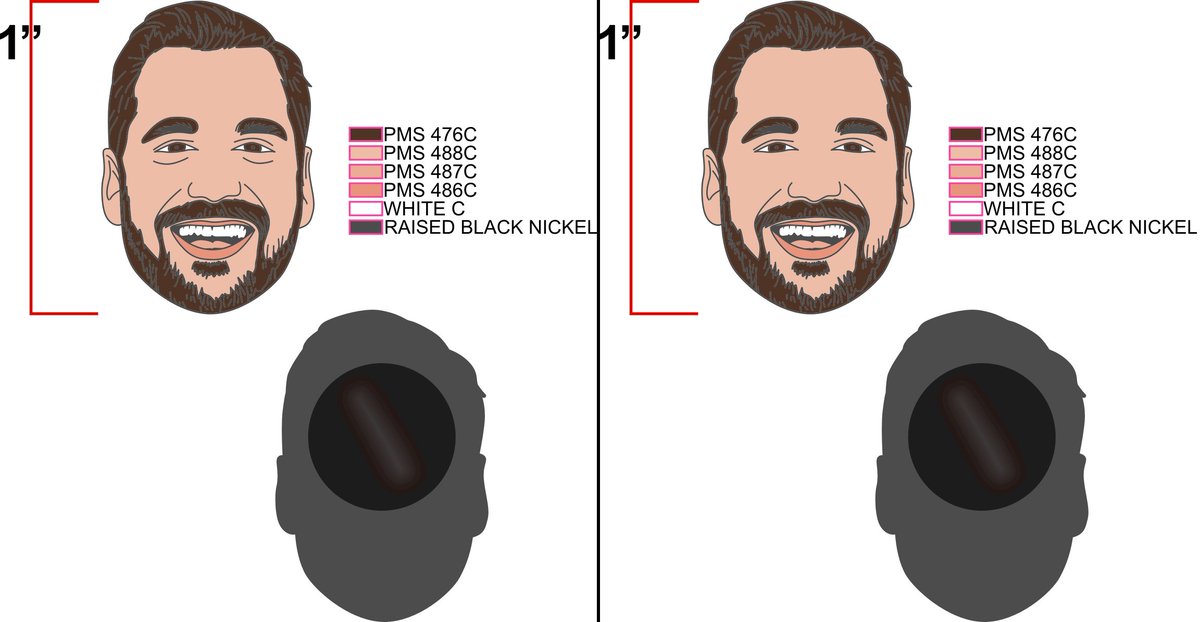 Harrison explained that these can be produced at a modest cost. When they come out, I'll want one!
I first encountered Harrison at
Monday Night Magic
, a permanent magic venue founded by my friend
Michael Chaut
. In creating Monday Night Magic, Chaut was able to accomplish what others -- including top performers from magic's heyday like Houdini and Carter the Great -- could not: he established a permanent venue for magic in New York City. Monday Night Magic has been running for more than two decades, powered by the energy of performers like Greenbaum. Just a note to those in or around New York City, and those planning a visit -- go see
Monday Night Magic
. If you check the schedule, you might catch Harrison Greenbaum there! You won't regret it!
_______________________________________
Postscript - December 2017
After sharing this post with Harrison, he kindly send me one of his new pins, hot off the press (and, in his words, that's assuming that lapel pins are made on presses!). It's a terrific keepsake. Take a look:
The card on the left is a business card on which the pin is mounted over his face! Thanks again, Harrison!