You may never have heard of Theodore "Ted" Colteaux. I hadn't before coming across his throwing card. Yet
The Linking Ring
noted in 1995 that "h
is influence in magic was so prevalent
that it is impossible to measure." Thus, I've
borrowed the moniker "The Secret Man" from a classified ad run by Colteaux in that same periodical in 1925 --
some seventy years earlier
-- as it's a particularly fitting appellation.
Colteaux was born in 1907, and started performing magic while attending elementary school in Bloomington, Il. By 1924, while still a young teenager, he began contributing pieces to magic magazines, offering workman-like hints, tips and suggestions to fellow practitioners. He met Houdini and Thurston, and corresponded with legendary magicians including Ted Annemann. By 1926, he began offering equipment for sale in
The Sphinx
, and by the 1930s created the Colto Magic Trick Company, which offered standard equipment and original effects.
But was Colteaux any good? This is a question I sometimes grapple with when writing about lesser-known performers. Here I found an unusual answer: Colteaux was a featured performer at the 1932 IBM convention,
where
he shared the stage with, among others, John Booth, Len O. Gunn, Brush, Harry Cecil and Marquis. In the months that followed, his presence on that stage (along with these others), created a small controversy in magic magazines as some
complained that less skilled performers would be discouraged from participating in Convention contests, when magicians like Gunn, Brush, Booth and Colteaux, described as "tough competitors" were "stealing the cake." Having been compared to some top names in the field, once can assume that Colteaux was a formidable presence on stage.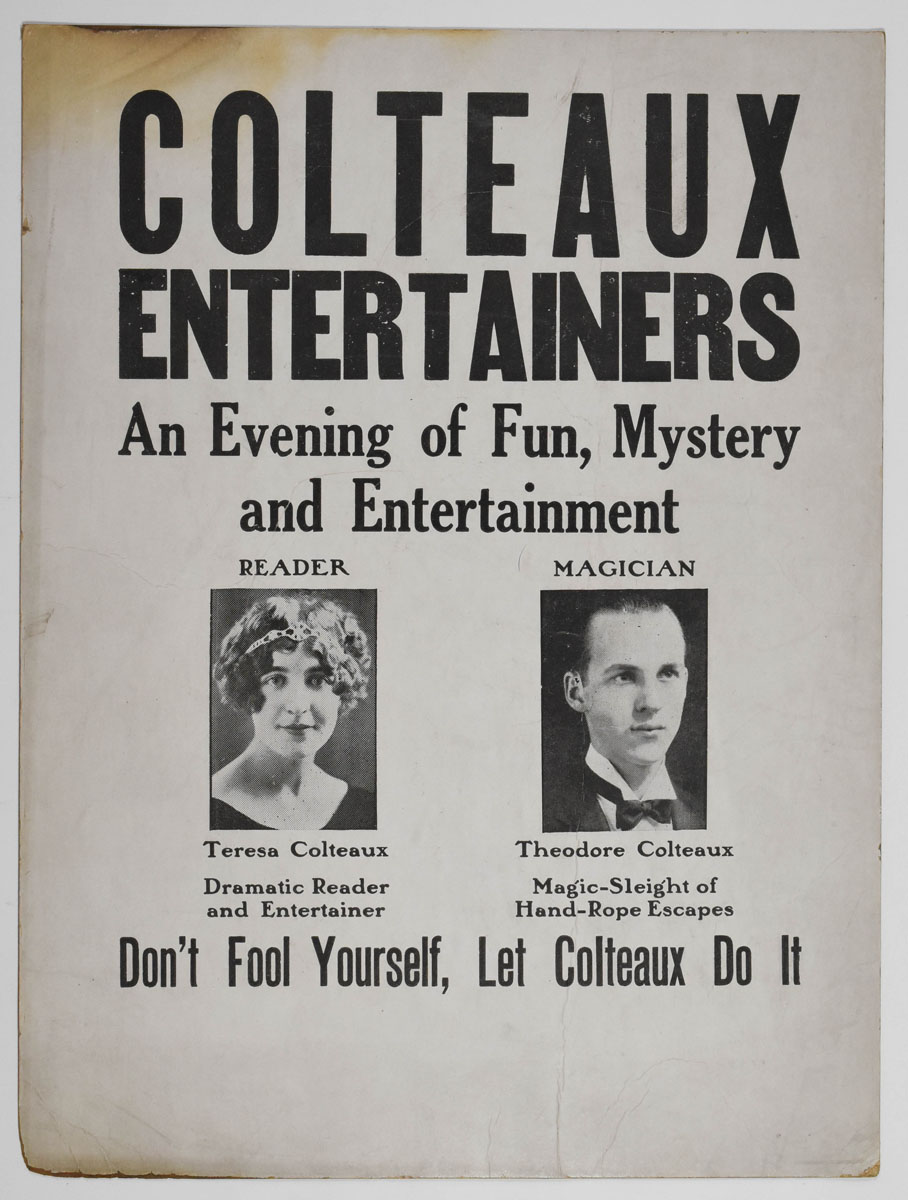 Colteaux touring with his sister, c. 1935.
In 1931, a columnist in
The Linking Ring
observed that Colteaux "
has been on a buying spree, and we think he intends to put on a full evening's show." Indeed, he soon hit the road, becoming a performer with the
Wiere and Wayne Vaudeville Troupe and later performing in Chautauqua. He became known for scriptwriting, ventriloquism and classic magic pieces, like rag pictures (featured on his throwing card below), nested alarm clocks, card flourishes and
billiard
ball manipulation.
s
ou
t
a
s
a
Sho
He had two throwing cards, both of which are seen here. Both cards feature "Jimmy," his ventriloquist dummy. One card has a vintage Bicycle back and is standard size; the second is oversized with a printed text back with period graphics. Over the years, I've encountered a great deal of Colteaux memorabilia.
From Billboard, 1948
Eventually, when full-time magic could not support his family, he became a salesman for the Beich Candy Company, a position he would hold for the next 40 years, and used magic to further his sales. And his passion for magic never waned.
He became deeply entrenched in the International Brotherhood of Magicians, holding membership number 365 and was part of the Order of Merlin. Reputed for his "infectious and lovable approach to performing,"
Colteaux continued to practice and teach the art that he so loved until the 1990s. He died in 1995 at age 88, having been active in magic for three quarters of a century.
f
Northfield
,
Minnesota
.
Le
e
Henneberr
y